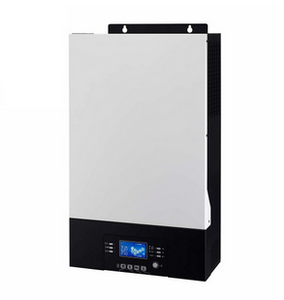 Overview
This is a multi-function inverter, combining functions of inverter, solar charger and battery charger to offer uninterruptible power support in a single package. The comprehensive LCD display offers user-configurable and easy-accessible button operations such as battery charging current, AC or solar charging priority, and acceptable input voltage based on different applications.
Feature:
Brand: Temank
Product Model: VM-5K-III
Display Model: LCD Display
Pure sine wave inverter
Configurable input voltage ranges for home appliances and personal computers via LCD control panel
Configurable battery charging current based on applications via LCD control panel
Configurable AC/Solar Charger priority via LCD control panel
Compatible to utility mains or generator power
Auto restart while AC is recovering
Overload / Over temperature / short circuit protection
Smart battery charger design for optimized battery performance
Cold start function
Removable LCD control module
Multiple communication ports for BMS (RS485, CAN-BUS, RS232)
Built-in Bluetooth for mobile monitoring (Requires App), OTG USB function, dusk filters
Configurable AC/PV Output usage timer and prioritization
Table 1 Line Mode Specifications

Table 2 Inverter Mode Specifications

Table 3 Charge Mode Specifications

Table 4 General Specifications
Basic System Architecture
The following illustration shows basic application for this unit. It also required the following devices to have a complete running system:
Generator or Utility mains.

PV modules
Consult with your system integrator for other possible system architectures depending on your requirements.
This inverter can power various appliances in home or office environment, including motor-type appliances such as tube light, fan, refrigerator and air conditioners.
Product Overview
LCD display
Status indicator
Charging indicator
Fault indicator
Function buttons
Power on/off switch
AC input
AC output
PV input
Battery input
Circuit breaker
Remote LCD panel communication port
Dry contact
USB communication port
BMS communication port: CAN and RS232 or RS485
RS-232 communication port
Output source indicators (refer to OPERATION/Operation and Display Panel section for details) and USB function setting reminder (refer to OPERATION/Function Setting for the details)
Operation and Display Panel
The operation and the LCD module, shown in the chart below, includes six indicators, six function keys, on/off switch and a LCD display, indicating the operating status and input/output power information.
Indicators
Function Keys
There is detail information about Temank 5KW MPPT 320Vdc 80Amp Inverter 54Vdc 60Amp With LCD Display as below: 
Temank 5KW MPPT 320Vdc 80Amp Inverter 54Vdc 60Amp With LCD Display Manual Download