Brand: Temank
Product Model: GTI-1000
Efficiency: 120VAC(90-140VAC)/230VAC(190-260VAC)
Cooling: Fan
Grade of Waterproof: Indoor design
Temank 60A 1000W GTI Grid Inverter GTI-1000 With Indoor Design Parameter
Power

200W

300W

400W

500W

600W

800W

1000W

Solar panels

≥200W

≥300W

≥400W

≥500W

≥600W

≥800W

≥1000W

DC MAX input

240W

360W

480W

600W

720W

960W

1200W

DC input range

10.8-28V

MPPT Voltage

15.5-20VDC

DC MAX current

15A

20A

25A

30A

35A

45A

60A

AC MAX output

230W

330W

430W

550W

630W

830W

1100W

AC output range

120VAC(90-140VAC)  or 230VAC(190-260VAC)

Frequency range

50Hz/60Hz(Auto control)

Power Factor

>97.5%

THD

<5%

Phase Shift

<2%

Efficiency

120VAC(90-140VAC)

Peak Efficiency

90%

90%

88%

87%

85%

83%

81%

Stable Efficiency

88%

87%

86%

84%

84%

81%

79%

Efficiency

230VAC(190-260VAC)

Peak Efficiency

91%

90%

88%

87%

85%

85%

82%

Stable Efficiency

89%

88%

87%

85%

85%

83%

80%

Protection

Islanding; Short-circuit; converse connection; Low Voltage; Over Voltage; Over temperature Protection

Work Temperature

'-25℃-65℃

Work Humidity

0%~90%RH non-condensing

Grade of Waterproof

Indoor design

Show

1 Red and 1 Green

Cooling

Fan

Stand-by Power

2-3W

EMC

EN61000-6-3:2007 EN61000-6-1:2007

Grid Disturbance

EN 50178+EN 62109-1+VDE0126-1-12

Grid Detection

DIN VDE 1026 UL1741

Certificate

CE
Installation and Connection
Installation
Red terminal: Connect DC positive, black terminal: Connect DC negative
AC socket: Connection to the mains. The AC cord to the inverter 3 foot outlet, then the AC cord to home 3PIN AC outlet
Switch: properly connected; turn on the switch, the inverter to work.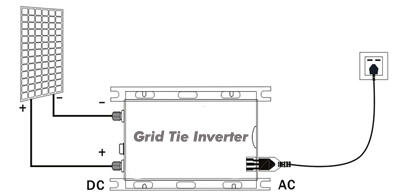 Application of Street lights
Use this product, do not need to add a fan controller, solar panel controller, battery
This connection method, wind energy, solar energy can supply to the grid at the same time, the highest efficiency.
System Function
Connect to DC Power Resource directly and Direct-output Power Grid

DC power resource refers to devices included solar panels, batteries and wind power generators with AC/DC controller, etc. All DC power supply output voltage fit with inverter input voltage setting range which is 10.8-28VDC.
Power grid refers to single phase civil electricity utility grid. Such as 110V(90-140V)and 220V(190-260V)single phase civil electricity utility grid.
YSmartgrid tie microinverters can connect to power grid directly and uploading electric power directly because of inverter output current wave form is pure sine wave which is same as civil electricity grid.
There must be electricity on power grid and connectivity is first necessity of inverter operating. When there is power outage or fault of power grid, inverters will be not operating. And it is the biggest difference between grid tie inverter and off-grid inverter.

AC 0 Angle Phase High Precision Auto-detection

MCU process for high-precision detection and analysis after AC 0 angle phase pass through isolation amplifier and input into MCU, phase shift rate is less than 1%, and finally achieving high-precision of cophasal modulation AC combined Output.

Synchronous High-frequency Modulation

In process for grid connectivity, usually approach with cophasal angle for grid(ie, when total current of inverter and grid is 0, combined current by switch). But our inverter approach for grid with same frequency and same phase is DC to AC first, then rectified AC current into pulse electric which is half-frequency 100Hz, finally combined pulse electric modulation with current of grid and then fed into power grid.

Pure Sine Wave Output

Adopting Sinusoida PWM process for pure sine wave output which is same wave form of grid. No interference for grid.

Superstrong Shadow Resistance

Adopting high frequency conversion operating, less transmission loss will be. In cloudy days or inadequate sunshine days, if only there is 3W-5W output from power supply and input into inverter, inverter can be operate AC conversion. But of cause, output is proportional input. The more input power the more output power and vice versa. Inverter can operate in such low input power supply, it's indicate inverter power conversion operating times can be up more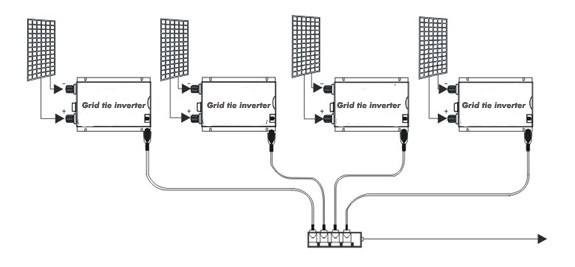 There is detail information about Temank 60A 1000W GTI Grid Inverter GTI-1000 With Indoor Design as below:
Temank 60A 1000W GTI Grid Inverter GTI-1000 With Indoor Design Manual